After the clash between Gurmeet Ram rahim supporter and Hariyana & Punjab police. The government is facing sheer criticism for allowing these god man to function in a state the way the are doing. Gurmeet Ram Rahim is not the only god man from India, there are many other god man and baba's in India who are controversial and convicted in many cases in India.
Baba Ram Rahim (Insaan )
Leader of Dera saccha souda the organisation in 1948. Gurmeet Ram Rahim is charge in many cases and convicted in the case of Rape of his followers. He is also have the charges of murder of a journalist who expose the wrong doing in Dera's of Ram  Rahim. he is also an accuse of hurting religious sentiments of Sikh people by wearing Gurunanak ji like dress in an event.
Chandraswami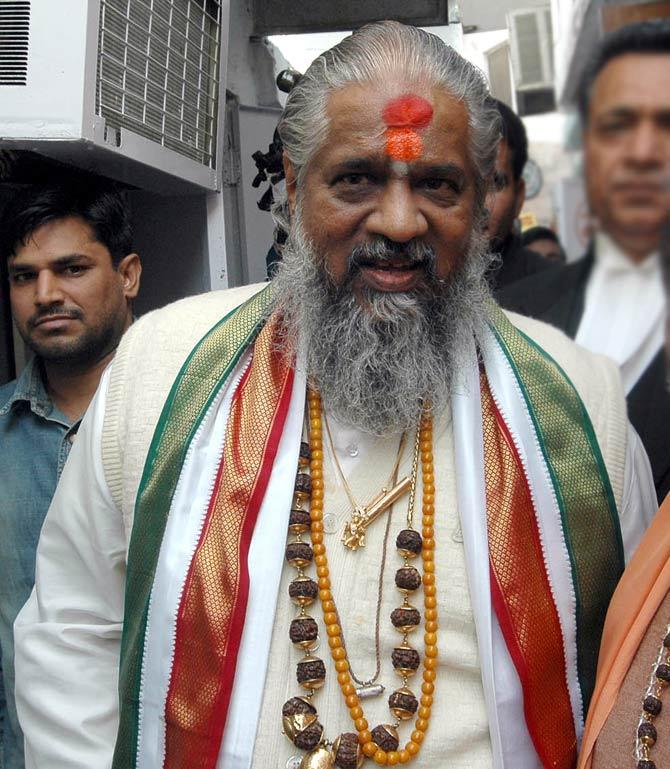 His association with former Prime Minister PV Narasimha Rao brought Chandraswami — the controversial tantrik — into prominence.
Interestingly, the godman's finances have fluctuated with his political fortunes.
Controversies:
1: Chandraswami has been accused of several financial irregularities and was ordered by the Supreme Court to pay a penalty in several Foreign Exchange Management Act violation cases registered by the enforcement directorate. The ED has imposed a total penalty of Rs 9 crore (approx) on Chandraswami in 13 cases of Foreign Exchange Regulation Act violations for acquiring foreign exchange in contravention of the Act.
2: In 1996, he was arrested on charges of defrauding a London-based businessman of $100,000.
3: The CBI has been investigating the suspected role of the self-styled godman in the Rajiv Gandhi assassination case. The Jain Commission dedicated a volume to his alleged involvement in the assassination. The Enforcement Directorate is still investigating his alleged role as financier in the killing.
Asharam Bapu
Another spiritual guru Asharam once a very influential baba in a Delhi circuit. Is convicted in a charge of murder and accused in the charge of murder of sevral witness in the case relating to it.
Rampal
Rampal is an Indian religious leader of Kabir panth, often described as a self-styled godman. He has the charge of murder and contempt of court.  We have seen the same misshapes at the time of arrest of these baba rampal.
Nityanand
Swami Nithyananda was named as one of the 100 most spiritually influential living people in the world by Watkins'Mind Body Spirit magazine.
Nithyananda landed in a controversy after a purported video footage showing him in a compromising position with an actress was telecast by local TV channels. Nithyananda said the video was morphed and manipulated to misrepresent his personal life but did not deny his images with actress Ranjita in the film.The video aired on Tamil TV channels caused a furore, with some Hindu groups and others protesting against Nithyananda. Lenin Karuppan, who had exposed the alleged sex scandal, was arrested after a complaint by the manager of Nithyananda's ashram that Lenin had demanded money to keep the video secret. Nityanad is also accused of rape cases in India.
Nirmal Baba
Nirmal baba is a very famous baba of India, he is famous for his laughable tips to change life and to get blessing from gods. Nimal baba is also an accuse of case of fraud and 420 in the past.
Zakir Naik
Zakir Naik is a Muslim guru and so called God- man from India, who runs peace tv and Madrasa's in India . He is been accuse and on run right now in the case of terror funding and Hawala. Police is also looking for Zakir Naik in the case of frud and illigal conversions of Hindu girls into Muslims.